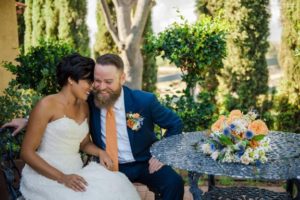 The new year always brings a welcome moment of reflection after a frenzied holiday season. At the top of each year, I read through the previous year's client reviews to discover opportunities for improvement, as well as relive the high points. I feel most proud of what I do as a florist when a longtime customer allows me the honor of creating florals for a once-in-a-lifetime event such as a wedding, as was the case with the lovely bride you see here.
Without further ado, my favorite review of 2015 by Mrs. Burdeshaw:
"I first discovered My Beverly Hills Florist as a regular customer sending flowers to my best friend for her birthday. She couldn't believe how gorgeous the flowers were and also complimented on how professional the delivery person was.
I have since ordered from them multiple times as the excellent service, quality and stellar design set them apart from most other florists in LA. Because they've always done such a spectacular job, I decided to use them for my wedding in October.
The My Beverly Hills Florist team did an unbelievable job on my wedding florals. Once again, they outdid themselves and I know many of my friends will be contacting them for their future events. Thank you for always making such a lasting impression!"
At the top of my annual resolutions list is the desire to always better serve my clients, but this review inspired me to revise those prior statements and instead make every customer a customer for life!